Kekekekekekekeke Seka hako wasu.Go on imbwa yemunhu.Wakanakirwa ndakakuridza.I told you wani kuti ndiri kukuridza after you wrote manyepo about me uchiti ndiri kusungwa etc as you were capitalising on Tafadzwa's story to pursue personal agendas neni and you even lied kuti ndakanyepera Tafadzwa yet it was very clear kuti I just shared as usual what was said about her but your aim was to settle personal scores with me.Uyai mese nembwa dzasolicitor wako and before anything else tell your solicitor kuti you had posted defamatory statemenrs about me and I then made public a letter written by someone about your fraud.You got what you deserved and you started it .simple.Ini I'm a solicitor myself ndinokugadzirisa ndega.Wakazwa butter next time hauitiri wasu minana. Wakaita mutserendende parazor. Zimbwa rezanu.
————————————-
Sent to HRDV by Simbarashe Chikanza
By Email, Post, Whatsapp
25 April 2016
musvozimbabwe.com
Your defamatory internet posts and publications.
I write in connection with the identification and pursuit of identified instances of libelous, harassing statements you have made against my name and reputation across the internet.
I have been made aware of various posts you, on behalf of yourself, have made and are making on forums around the internet, [including Facebook] which make reference to me.
My claim
I have evidence to prove that the [forums] hosted by your website [musvozimbabwe.com] ("Website") and Facebook page (HRD) contain serious, untrue and highly defamatory comments towards me, and of which contain malicious falsehoods. In doing so, defamatory comments are being communicated to [thousands] of people throughout the world, posing a serious threat to my reputation [and various individuals around my life].
These comments are designed to damage my reputation in the market place and the community at large than have any fair comment basis.
You are aware what you published is not true.
Some of your defamatory threads are on your link (url) http://musvozimbabwenews.com/…/as-uk-big-lottery-fund-was-fle…/
………………………………….
You are in possession of the cache of the posts within the aforementioned threads which illustrate the defamatory and actionable nature of the content the beginning of which is contained ("Schedule A"). Please note that this is not an exhaustive list, but merely a token sample to illustrate the nature of the discussion.
Under international laws and those of England and Wales, a defamatory statement is one which tends to lower the claimant in the estimation of right thinking members of society generally (Sim v Stretch [1936] 2 All ER 1237). The words are defamatory, identify or refer to the claimant (myself) and are published by yourself to third parties.
Legal proceedings
In order to protect my interests I am considering proceedings against you in the High Court. These proceedings would seek remedies including but not limited to the following:
• substantial damages;
• an injunction to restrain you from publishing the same or similar statements in the future; and
• costs.
Jurisdiction
A defamatory statement is published at the place where it is read, heard or seen, and is not where the material was first placed on the internet. In internet cases, therefore, provided a small number of people have access to the material on the internet in England, the English courts will have jurisdiction to hear the claim against a foreign defendant (Spiliada Maritime Corp v Cansulex Ltd [1987] A.C. 460).
Next steps
I am not against freedom of speech and recognise the value of fair comment. At this stage I have no desire to issue legal proceedings against the operators, yourself and your website and are are keen to do all I can to avoid litigation where possible.
However, in accordance with the pre-action protocol for defamation, I will desist from issuing legal proceedings provided within 7 days of the date of this letter you agree to do the following:
• remove from publication in their entirety the defamatory threads to prevent harm to my business and name;
• produce an apology and a declaration that the allegations referred to are false and defamatory and cause such apology and declaration to be published in each of the forums which have given or could give reason for my complaint (such apology to be approved by us prior to publication);
• provide details of recipients of advice or comments made of this nature, together with contact details for each recipient;
• provide details of the number of posts made, together with website addresses;
• make proposals for the payment to me of damages for the harm caused to my reputation; and
• undertake to actively monitor and delete any newly published defamatory content relating to me.
If the defamatory threads are not permanently removed and the above undertakings are not complied with by [5.00pm GMT] on 2nd May 2016 I shall revert with a view to recommending to my solicitors that they commence taking steps towards the swift issue of proceedings without further notice.
I draw to your attention the terms of Section 2 of the Defamation Act 1996, under which you have the right to offer to make amends.
I await your response by return. In the meantime I reserve my rights, in particular the right to produce this letter to the Court when it comes to consider costs under CPR 44.3.
Yours faithfully
Schikanza, Simbarashe Chikanza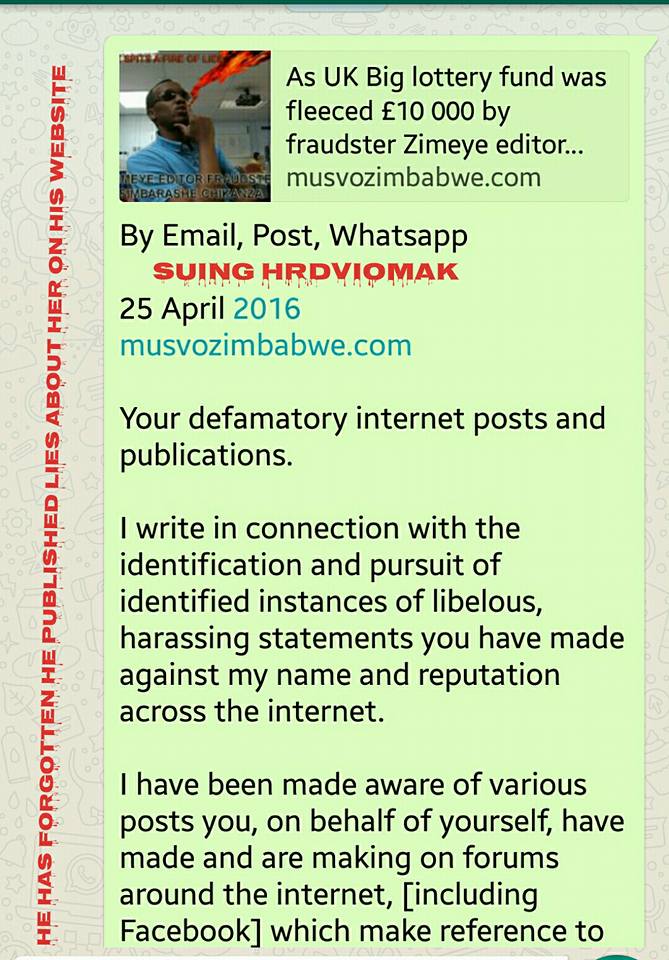 ————————-
HRDV's response
"Right .Zimeye editor Simbarashe Chikanza you are forgetting that you published on your news site defamatory statements and lies about me and you were even using aka names giving me other names intending to put me out there in danger kumaZanu ako .Your intention was kuda kundiuraisa thinking vazondibatisa handiti.Hino wakairasa.You sue matinji amai ako "