A disgruntled allegedly UK based HIV positive Zimbabwean paedophile Vincent Chikwira has leaked nudes which he claimed to be that of his ex- girlfriend Kumbirai Musiiwa, as he said.Further information revealed that the paedophile was dumped by one woman for rape crimes and for being a drug addict as reported by a source to musvozimbabwe  .Further  investigations as to why he was dumped claimed that he was not only a drug addict and a paedophile with a history of rape  in Zimbabwe but he was also a serial liar and womaniser who did not reveal the criminal information and his HIV status to a woman who dumped him. Vincent is said to have raped a close relative (name withheld to protect the identity of the victim)'s three year old daughter after which he skipped the border to Britain.
An technical investigation by musvozimbabwe led to his IP address 90.193.168.173 which he uses online under the name Mapancho . A search confirmed that his IP address is a UK IP address.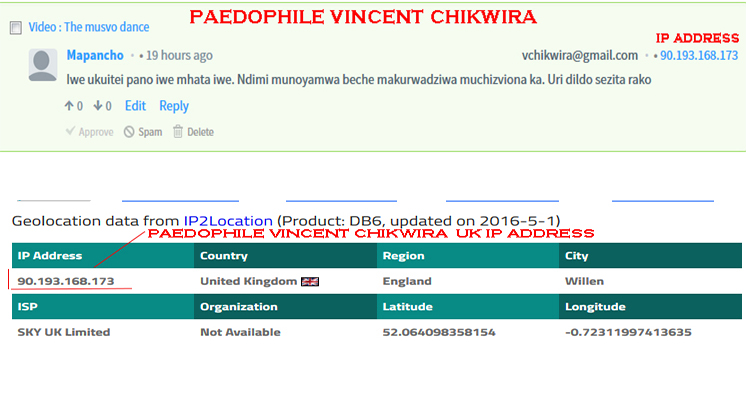 In an email to musvozimbabwe as he asked how to leak the nudes the alleged paedophile said ,
" I fell in love with a girl in Zimbabwe and by the way im in the UK.  Umm she was my girlfriend when i was still back home and we broke up and then i came to the UK few years after we broke up. I got a job and it was just a part  time job only done it for a few months then after that i applied for college and i got a place at college soon after the job and i was on jobseekers allowance.One day im browsing on facebook then i just saw that same girl from back home in Zim and i took her number and all that. I started ringing her phone and was chatting with her and all. I asked her out like you know i still loves her and she agreed. One day i got paid my JSA it was like a £100 and i took £80 from that money i send her. Couple days after i rang her and she just told me handichada siyana neni and i was like "what you on about girl? " So i said to her give me back my money and then i wont be on your way. We argue for like a week trying to convince her how much she meant to me. Right!  So you know i was really frastrated and i said to myself im never gonna speak with that girl ever again. I didnt ring for a couple of weeks and i recieved a call from her saying she was sorry and all that and i forgave her. Then i got a job i started working and i made an effort to buy an air ticket so i can show my girl how serious i was, that costs me like £700 by then and i was the happiest person on the planet. We were love birds for a year and she actually was sending me her nudes and all that. So in 2014 we argue on the same issue (nude pictures) and she dumped me again for that and i cried to her over the phone and i said i was sorry and she forgave me though i was planning for a journey to go and see her. I bought my air ticket and that cost me around £1. 100 and remember all the time everymonth i get paid ndotumira mari. I went to Zim and everything i did for her theres nothing i didnt do for her. I only was gonna stay in Zim for 3weeks because of work and all one week down everything is fine .Second week everything was fine then suddenly the third week she started acting wierd and eventually dumped me for the reason that i smoke weed and drink beer. But ka hanti wakandida ndichirova. Ive got her nudes and i dont know if ts a good idea to expose them. Help me with that".
A screen shot of the email is below
The alleged paedophile who also claimed that he had musvo videos for Kumbirai Musiiwa added on email saying he was really pleased to leak his ex's nudes ,
"I'm down for that i need to teach her a lesson and i want her to see them on the internet.What we do next? I'm so excited to see this happening. Can't wait to read the story…I'm not in the videos shes on her own i will download them and send them to you but her phone must be switched off though i think. I have got plenty of pics lets do the pictures at the moment kuti zvityise. Tikaburitsa zvese ka1 hazvizoite hudzamu chaiwo. Everyday toburitsa pic gore ropera kikikiki"wrote Vincent .
The paedophile then emailed the images below to musvozimbabwe saying this was Kumbirai Musiiwa the woman who duped her .