We are married and enjoy doing musvo. We can actually feature in musvo movies. Thomas Rashamira. Said to be the owner of Clip Crunt real estate. Michelle was once bashed by so called Rolen Muchegwa etc over chihule.
OTHER NEWS  DECEMBER 2017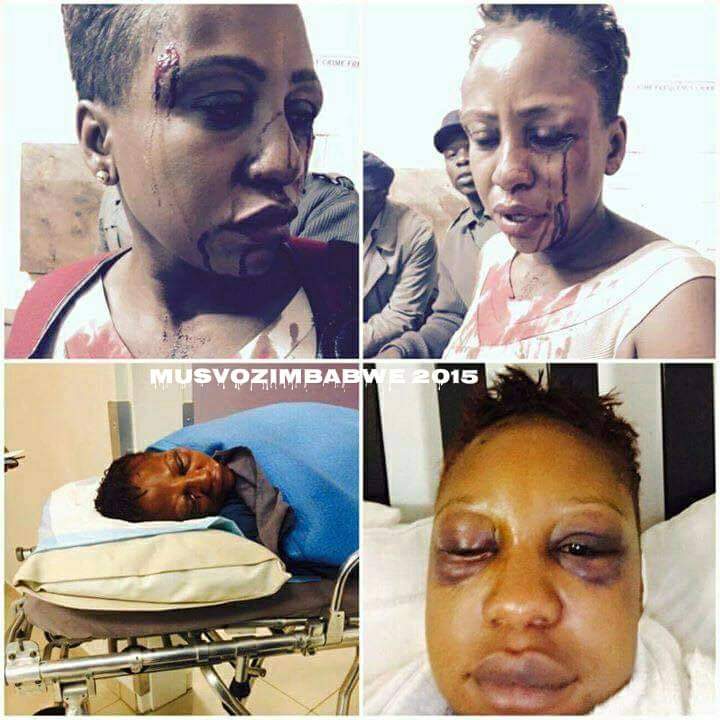 Retrieved : Michelle Kawome of Rolen Muchegwa 2015 issue now on about Edmore Jori 2017 issue.
Just been reminded that sisi Vee was actually on her other story with Rolen in 2015 .
[05/12 6:32 pm] 203 Tete : ☝🏽☝🏽☝🏽☝🏽🤣🤣you have done an Article in 2015 on that whore Michelle
[05/12 6:41 pm] Sisi Vee: Oh yeaaaaaa ko tete its her oh my God it never ran a bell kekekekeke have done too many stories to even remember .Thank you so much 💃💃
——-
1.Wanted by Police : A 46 year old man Rolen Muchegwa in connection with a brutal attack on his ex wife Mitchell Kawome (32) .
————————–
From inbox .
This is a public appeal to help The Harare Central Police with information leading to the arrest of 46 year old Rolen Muchegwa in connection with a brutal attack on his ex wife Mitchell Kawome aged 32. Mitchell was brutally attacked with a bottle and suffered serious facial and body injuries as her lifeless body was repeatedly stamped on by this coward.
The attack happened on the night of 17th of September 2015 at Pablos in Harare. The two were married for 10years before the marriage collapsed in 2012 after pictures of Rolan having a 3 some with two women went viral on what's app. Rolan cheated on Mitchell countless times and as a result he fathered 4 children with other women outside wedlock whilst he was still married to Mitchell. In total Rolan have 8 children with 4 different women.
Mitchell have been living in fear since the day she left him for his cheating ways. This man is a coward to be going out hunting down his ex wife whilst he's presently married to one H**** B****** who he has since moved in with in the house he used to share with ex wife Mitchell.
Roland Muchegwa (46) is currently on the run from the Zimbabwean police after this last attack which left Mitchell fighting for her life. The police and her family want to hear from anyone who may have information on his whereabouts. He is a very dangerous and violent man and should not be confronted or approached except by police officers. His usual and last known place of residence is in Mount Pleasant, Harare. Anyone with information should contact Inspector Sengwe or anyone on duty at the Harare Central Police Sub District level (Phone: Number is 04-777777).
This Rolan Muchegwa has not been providing any form of support or child maintenance to his children.
Their marriage was marred by Roland Muchegwa's philandering, abusing, violent and controlling behavior. Mitchell Kawome was routinely subjected to savage acts of physical violence, countless of times, in front of her children whenever she confronted him about his cheating and behaviour.
Whenever Mitchell Kawome tried to escape and leave the marriage in order to save herself and her children, Roland Muchegwa would always follow her to her parents' home and forcibly bring her back into a matrimonial home plagued by violence.
Although she was finally free, Roland Muchegwa vowed and threatened that if he couldn't have her he was going to make sure that no one else would. Since then he has physically attacked her whenever he bumps into her and has physically fought everyone who tried to date for the past two years.
No human being should be made to endure such a life of violence and torture. We should stop viewing domestic violence as a "cultural norm" or a taboo subject that we should not discuss in public. Women, whether married or single, should be able to exercise their fundamental human right to live a life of dignity, freedom, free from abuse and violence. Let us help Mitchell Kawome and all other victims of domestic abuse and violence get the justice they rightly deserve. The least we can do is to give her and her two children a voice by sharing their story with others. We should not let them suffer in silence.
—–
2.Update : As the plot thickens in the Mitchell Kawome and Rolen Muchegwa saga.
Really sad .Nyaya dzearume neakadzi ibasa chairo.Pane uchafa pakati pawo.Rest in peace in advance.
———
From inbox
Pane nyaya ya Michelle wekurohwa na Rolen that was posted earlier. Michelle you deserved the beating you got from Rolen and more than that. You are now coming pano asking for sympathy zvisina basa. Urikuiita basa rekudana nemurume weshamwari yangu. Busy calling yourself Mrs J…… Yako imba wakatadza kuimisa zvakanaka uchiita basa rekusiya mbiri mumabhawa uri mukadzi wemunhu. Kana Rolen wacho anotadza kukurova like that sei uri benzi remunhu??
My friend is a wreck because of you Michelle nemushonga wako wawakashandisa kune murume wake. Murume haasi kugara pamba because of you. Every weekend anochema murume wake asina kuuya mumba anewe. Rolen wacho nekutouya nekumba kweshamwari yangu in Greystone Park and embarrassing her in front of her kids and neighbours because of mushonga wako wawakashandisa paari. Kana pana iye Rolen wacho mushonga wawakashandisa kuti akude that's why ari kuramba kukusiya.
Mwari will fight for my friend you will never be the Mrs. J. Iye hapana pawakamunzwa achikutsvaga because the God she serves is a faithful one. Ari kumurwira through your ex husband. Ngaarambe achikurova until you leave my friend's husband wauri kuswera uchiita parade naye muma bhawa.
Ever asked yourself why he is not leaving his wife for you mvana ine vana 2 yafambisa mbiri mumabhawa nenyaya yechihure? Why is he not coming to your rescue after warohwa na Rolen wacho? Because anenge aiine mukadzi wake and his kids.
Hapana pauchaiita Mrs J. Never!!. I say to Rolen thank you very much for beating her up. Regedza kudanana nemurume weshamwari wangu tioone kuti Rolen wacho anoramba achikurova here.
Vachatuka tukai henyu. Hure rinonzi Michelle rashaiyisa sahwira wangu mufaro mumba. Isu we are busy celebrating over your beatings. You will never have her husband dream on bitch…
MUSVO VIDEO 2021
VIDEO